Strong communication
Communication actions to reinforce your visibility. Being a member of the cluster means benefiting from communication tools to promote your know-how and your news.
Your objectives - You wish to
Boost your cooperation
Share your news
Be informed of the latest trends
Develop your skills
Exchange on specific topics
Find a partner
Present your skills and know-how in the directory
You want to boost your cooperations?
As a member of Polymeris, you will benefit from a presentation in our printed directory (updated every year) in which you can highlight your activity.
You also appear in the online directory: all our members are listed. You can search for them by category, activity, market, region, etc.

Promotion of your news on our communication tools
Do you want to share your latest news? Do you want to anticipate and be informed of the latest trends?
Share your news on MyPolymeris and spread the word with our newsletters! Sign up for the thematic watch group on MyPolymeris.
Newsletters
Discover the different types of Polymeris newsletters
Each of our newsletters has its own objective: sharing knowledge, presenting solutions, exchanges between industrialists and academics...
Monthly newsletter - News
We relay the news of our members in this newsletter with articles on our members, reviews on current actions...
Published each month
on the 4th Tuesday
Weekly newsletter - Events
Relays information
about upcoming Polymeris events.
Participate in the cluster's events under member conditions
Do you want to develop your skills and find the latest innovations through thematic events?
POLYMERIS mobilizes its members on sector events. We rely on different types of events with specific objectives to meet the needs of each. Make your know-how known, share your solutions, discover partners, increase your network... You will always find an event made for you!
Events
Discover the different types of Polymeris events
Each event has its own objective: knowledge sharing, opportunity to present solutions, exchanges between industrialists and academics...
Project Emergence Days (JEP)
Allow the different actors to meet around the theme of innovation. The objective is to encourage participants to reflect on their problems and to pool their skills (laboratories, technical centers, industrialists).
Solution
Provider Days (JOS)
Aim to bring together manufacturers (mainly SMEs) and service providers in order to help SMEs in our sectors to increase their skills and efficiency.
Technical days
Provide technical and/or scientific information. They can lead to collaborative projects. They allow us to highlight some of our members or our European partners.
Congresses
Offer technical and/or scientific information in Europe and internationally.
Trade shows
Offers visibility to its members and to the industry. In particular by organizing networking events through the Innovation Tour. Discovery of the last trends on some international exhibitions and conferences. POLYMERIS also proposes missions of watch.
Collective missions
Accompany participating companies to facilitate their understanding and access to markets. These missions allow them to understand the challenges related to the market, to identify potential partners and to position themselves on business and collaboration opportunities.
Partners
Connect our Ecosystem with other environments (different themes, different regions...).
Webinars
The webinar of restitution allows to discover the main innovations which are commented by our project managers.
Join one or more clubs
Do you want to participate and discuss specific topics?
Polymeris offers to all its members and partners a new format of involvement in the innovation process: industrial clubs, focused on key topics for the development and future of the plastics, composites and rubber sector.

Benefit from qualified contacts
Are you looking for a partner or a useful contact? Are you missing a skill?
By relying on its network, Polymeris can quickly put you in touch with its contacts and partners in France and abroad: companies, subcontractors, consulting firms, research laboratories or universities, institutions in France and abroad...
You can also call on the network directly on MyPolymeris by posting your request or problem directly!
Key figures
5000
SUBSCRIBERS TO THE LINKEDIN
2000
SUBSCRIBERS TO THE POLYMERIS TWITTER ACCOUNT
1600
USERS OF THE MYPOLYMERIS PLATFORM
6500
SUBSCRIBERS TO THE POLYMERIS NEWSLETTER
By becoming a member of the cluster, you will benefit from several means to strengthen your visibility. All members can benefit from media and events to promote their company/organization (Newsletters, Social Networks, MyPolymeris Collaborative Platform, technical day...).
MyPolymeris
As a member, you have access to our community platform MyPolymeris. Our platform has been designed to promote collaborative work within Polymeris.
MyPolymeris is built around a news wall, and is divided into thematic information groups, work groups and project groups. You will be able to publish documents, exchange information, organize meetings or contact other members of the network via instant messaging!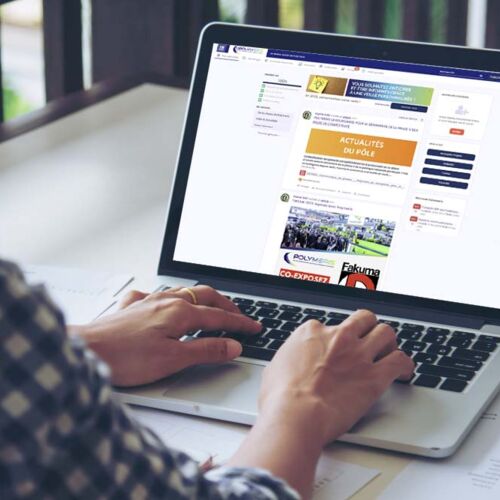 Inscription à notre newsletter
Fermer cette fenêtre